HWL Lantern Added to Bi Fold Range
2013-04-03
Bi-folding doors and glass lantern lights have become the one of the most popular (and trendy) upgrades to homes in the UK in recent years. As a result we are pleased to introduce our new Glass Lanterns range to Bifold Solutions which gives you the option to complement a new Bifold Door with a matching Glass Lantern to complete the designer look and finish.
We have introduced to our range a fantastic fully Polyester Powder coated Aluminium Glass Lantern system which is installed complete with a thermal break to maximise energy efficiency and prevent heat loss. The roof spars are a mere 40mm wide to create a stunning contemporary all glass look.
Our new HWL Roof lantern can be ordered with either double or triple glazed units, depending on your requirements, which are up to 44mm thick. We are delighted to report that the HWL Roof Lantern has achieved an overall U value of 0.7 when ordered glazed with 0.5U Triple glazed units.
The HWL Roof system can be sprayed to any RAL Colour of your choice to complement existing features of your home, and is available in a dual or single colour should you wish the external face to be a different colour to the internal face. All the HWL Roof Lanterns are completed with a marine finish for maximum defence against the weather and total peace of mind.
Also available and freshly introduced into our Roof Lantern range we have a PvcU Roof lantern for the more traditional look and style. The PvcU K1 Roof lantern can also be sprayed to any RAL colour you wish to match in with your Bi folding doors, sliding doors or any other feature of your home.
~
aluminium bi fold door cheshire increase by 70%
2013-02-12
As a Company sales of our Centro C1 bi fold has out sold all other aluminium bi folding door in our product range. Mr Knight puts its down to its low overall U value 1.1 when glazed with 44mm triple glazed units. Bi fold solutions now install triple glazed units with a U value as low as .5 to achieve such a low insulative value as standard. When trying to achieve a internorm ecohuas style installation you most also look at solar gain at Bi fold solutions we also offer a range of solar cooling glass in clear or tinted finishes When purchasing a Bi fold door consider * floor threshold * overall U value of the bi fold door you are purchasing - heat retaining. * solar gain - which way do the doors face * paint finish - marine finish * site line thickness 135mm.
Large Sliding doors to Bi Fold range
2012-10-12
As a leading supplier of Bi Fold doors we are often asked by our clients to install matching sliding doors for many projects. We are pleased to announce that we can now offer a complete range of Aluminium, Aluminium timber Clad, PvcU (UpvC) and Timber sliding doors.
These superb sliding doors can be either triple or double glazed depending on your requirements and our sliding doors range also includes high eco performance doors such as the Internorm HF330 Triple Glazed sliding Doors which reach a Ug Value as low as 0.7.
Our popular Allstyle Range of sliding doors can be manufactured with dimensions up to 3000mm x 2500mm per panel on a dual or multi sliding track system.
If you'd like to see some of our sliding doors and the differences between the ranges please visit our showroom where our team will be on hand to give you all the advice you need.
Slimline ATS Roof Lantern
1970-01-01
Lancashire Kitchen our delighted with our first installtion of our new Ats Roof Lantern
The Ats Roof lantern is a Fully Thermally Broken system. The Aluminium is Polyester Powder coated as standard to any Ral Colour of your choice. We our stocking white, black and 7016 mat Grey to reduce lead times .
Electric or Manual roof vents can be installed with the option of Heat or Rain sencor opening and closing.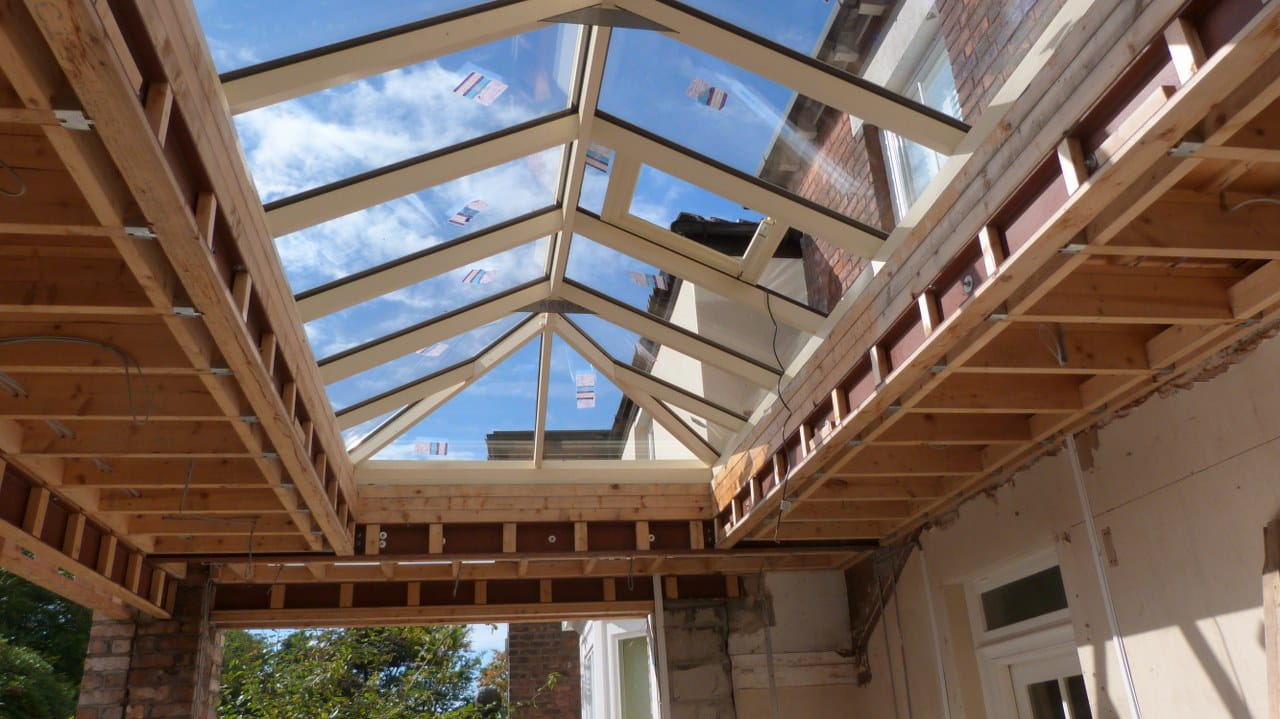 We have worked closely to with our extruders to create a Rafter and Internal Ridge Cover as narrow as 40mm wide.
The external cappings can be Flat or featured . The new Ats skylight can take snow and wind loads of 1.4 Kn/m2.
The New Slimline ATS Roof lantern can take 28mm double or 44mm Triple Glazing. With triple Glazing the roof roof would have a Glass U value of .7 and an overall rafter U Value 0.7.